My social work degree has been the most valuable tool in my manager/supervisor arsenal. I don't just hire interns, I develop internship programs.  In its simplest form, internship programs are about three things – people, policies, and processes. I hire all interns with a goal of capacity building.  I build capacity by utilizing standard program development steps.
Program Development:
Needs Assessment
Identification of Resources and Restraints
Determination of Objectives
Design of the Program
Implementation of the Program
Evaluation of the Program
Let me help you create a successful internship program for your business or nonprofit organization.
People:
Policies:
Processes: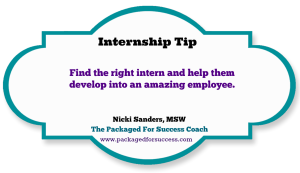 Nicki Sanders, The Packaged For Success Coach, is an Adjunct Professor with an extensive background in developing and managing internship programs. She is a skilled program manager, coach, trainer, and group facilitator who has packaged her Masters of Social Work degree and 20 years of work experience into Packaged For Success, a full service training and professional development company.
© 2016 Copyright Protected. ALL RIGHTS ARE RESERVED.