Home and Garden Television (HGTV) has long been one of my favorite television channels. One of my favorite HGTV television shows is 'Fixer Upper'. Fixer Upper shows the amazing remodeling and design skills of Chip and Joanna Gaines. Chip manages the construction and realty side of Magnolia and Joanna is the designer. The Gaines' company, Magnolia Homes, in Waco, Texas, turns dilapidated houses into beautiful homes and is fueling revitalization throughout central Texas. The talented couple, who just welcomed baby number five, has allowed their faith and family values to propel their television show into one of HGTV's most popular shows. They also operate several businesses including Magnolia Table, Hearth & Hand with Magnolia product line at Target, and The Magnolia Journal magazine. Chip and Joanna are also authors. The Magnolia Story is their autobiography and Chip has released and Capital Gaines.
As you are likely aware, I love cupcakes, but I also love country life. I took a trip to Dallas, Texas, this past weekend and could not miss the opportunity to visit Magnolia Bakery as my August bakery of the month. (My strawberry lemonade cupcake was delicious, and the customer service was excellent.) It was absolutely worth the drive to Waco to see the two abandoned silos that Chip and Joanna turned into a well-known landmark and tourist attraction. This is also the site of Magnolia Market home décor store. The entrepreneur in me was on cloud nine.
What I love more than the entrepreneurial success of the Gaines's businesses, I was more impressed by the positive impact Chip and Joanna Gaines have been able to make in their community. I am a macro social worker with a passion for community economic development. Macro social work is an area of practice where interventions are provided on a large scale and affect entire communities and systems of care. Community economic development is a community-driven process where communities identify and initiate their own solutions to economic, social and environmental issues to build healthy, economically viable communities. Community economic development contains principles and goals based on a grassroots approach to development where communities choose deliberate actions to influence the local economy and improve the quality of life for its residents. Issues addressed can include stabilizing local economies, creating long-term employment, contributing to the health of the natural environment, building on local resources and capacities, and increasing community control and ownership.
My hope is that visitors see more than beautiful home décor and pastries. I hope are inspired to make similar investments in their own neighborhoods and communities.
Related: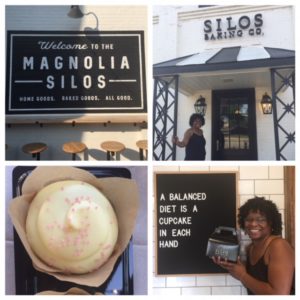 Nicki Sanders, MSW, is a travel and cupcake lover with a passion for self-discovery and career advancement. She has a strong background in developing and managing interns and successful internship programs. She is an accomplished manager, professor, coach, trainer, and group facilitator who has packaged her Master of Social Work degree and 20 years of diverse work experience into Packaged For Success Enterprises, a full-service training and professional development company.
© 2018 Copyright Protected. ALL RIGHTS ARE RESERVED.