National Foster Care Month 2019
Foster Care as a Support to Families, Not a Substitute for Parents
May Is National Foster Care Month, a time to recognize that we each can play a part in enhancing the lives of children and youth in foster care. Foster care must act as a support system for families, not a substitute for parents. Developing partnerships between local agencies, community organizations, and individuals within a family's network is key to building a supportive foundation that supports family reunification and preservation.
Families involved with the child welfare system experience a wide array of needs that can challenge their ability to provide for their children's well-being. This May, during National Foster Care Month, we recognize the important role community partners play in meeting those needs through partnerships with local agencies and child welfare professionals.
Visit the National Foster Care Month website to find important resources on ways to strengthen families with community-based support systems and partnerships, tools for community engagement, and real-life stories from families with experience in foster care.
Community members can support National Foster Care Month in the following ways:
The National Foster Care Month website also provides examples of child welfare agencies from across the country that are successfully partnering with their communities to support families, as well as examples of State and local proclamations to help you promote National Foster Care Month during the month of May.
Related Posts:
Teens In Foster Care Need A Loving, Supportive, Stable Family
No Boomerang When You Age Out of Foster Care
You Want Me To Adopt A Teen From Foster Care?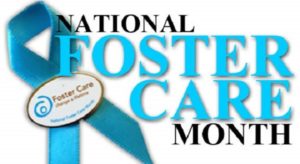 Nicki Sanders, MSW, is a travel and cupcake lover with a passion for self-discovery and career advancement. She has an extensive background in developing and managing interns and successful internship programs. She is an accomplished supervisor, professor, coach, trainer, and group facilitator who has merged her Master of Social Work degree and 20 years of diverse work experience into a thriving business. Nicki Sanders Consulting helps businesses increase employee recruitment and retention and helps managers uplevel their leadership skills.
© 2019 Copyright Protected. ALL RIGHTS ARE RESERVED.