Happy New Year…Again!
The start of a new year welcomes in the potential of 365 days of opportunity, excitement, and improvement. Whether we are creating a vision board, writing goals in a journal, or making New Year's Resolutions, most of us have something specific we are planning to do or someone we want to become or someplace we want to go or some amount of money we want to earn. Don't forget to enjoy the present while you anticipate and plan for the future.
What are you most looking forward to in 2018?
I won't be watching the Winter Olympics or the Roseanne reboot. I won't be anywhere near a stadium with Taylor Swift. I can pretty much guarantee that I will be inside during the Supermoon Blue Moon Total Lunar Eclipse this month. I'm not excited about a Royal Wedding or a Royal Baby or a Kardashian Baby. I think it's great that Fixer Upper's Chip and Joanna Gaines are having baby number five but that isn't one of the things I'm most looking forward to in 2018 either.
Here are 18 things I'm looking forward to in 2018:
50th Anniversary of the Civil Rights Act of 1968
Mid-term Elections
Finalizing a seminar for internship managers and supervisors
Helping new clients launch or improve internship programs
Working with new interns
Reintroducing my career development coaching services
Facilitating new career development workshops
Co-leading a professional development class for undergraduate and graduate social work students
Sharing more of my professional experiences on this blog
Marvel's Black Panther movie
A Wrinkle In Time movie
New music from Jonathan McReynolds
The New Edition Family Tour (ok maybe this is a really big HOPE)
A second season of Flip or Flop Fort Worth on HGTV
Cupcake of the Month excursions
Practicing better self-care (personally and professionally)
My milestone birthday
Success on my own terms
Related:
18 Reasons I Love Social Work
Bonus: Blue Moon, New Edition remake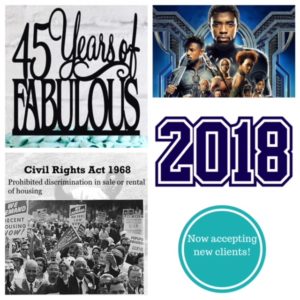 Nicki Sanders is a cupcake lover with a passion for self-discovery and career development. She has a strong background in developing and managing interns and successful internship programs. She is an accomplished manager, professor, coach, trainer, and group facilitator who has packaged her Master of Social Work degree and 20 years of diverse work experience into Packaged For Success, a full service training and professional development company.
© 2018 Copyright Protected. ALL RIGHTS ARE RESERVED.