March is National Social Work Month.
April is Child Abuse Prevention Month and National Volunteer Month.
May is National Foster Care Awareness Month.

According to Boys & Girls Aid, children in foster care face the constant risk of being moved. A child entering foster care will likely live in more than four homes during the first year of care. It is common for children who grow up in foster care to move more than 15 times. Each move can mean falling further behind in school and having to make new friends. Studies show that youth in foster care that don't start out with behavior problems are much more likely to develop them when they are moved around.

Normally on April 1st, I would be announcing the launch of our annual Pack A Backpack Drive. Due to the severity of Covid-19 and our adherence to social distancing regulations, our annual Pack A Backpack Drive created to provide backpacks and personal hygiene items to teen males in foster care has been postponed. A new date has not been determined.

Every young person deserves a family to call their own. When people think of adopting or fostering, they're generally more inclined towards babies and young children. This year, more than 20,000 teens and young adults will leave or age out of foster care without a family. Without support and resources, outcomes for youth who age out of foster care are often poor. Studies show that they are at increased risk for homelessness, young parenthood, low educational attainment, high unemployment rates, among other adverse adult outcomes. If you are unable to foster or adopt, Adopt US Kids recommends additional ways you can support teenagers who are in the foster care system:
Become a court-appointed special advocate (CASA) volunteer
Mentor a child in foster care
Offer free photography and videography services to adoption agencies
Become a respite care provider
Fundraise or donate supplies to foster care organizations
Read this article for additional ways you can 'Support Teens In Foster Care All Year Long'.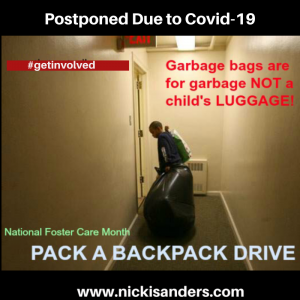 Social Work Month Blog Series 2020:
–Social Work Month Interview with Shante Johnson, MSW, Founder of Rising to Thrive, LLC
–Social Work Month Interview with Erica Anderson, LMSW, Founder of Millennial Social Work Conference
–Social Work Month Interview with Tiffany Walker, LSW, Founder of Pathways Toward Peace
Nicki Sanders, MSW, CEO, is a travel and cupcake lover with an aptitude for authentic connection and career design. She has an extensive background in developing and managing successful programs and leading high-functioning multi-disciplinary teams. She is an accomplished professor, coach, trainer, and group facilitator who has merged her Master of Social Work degree and over 20 years of diverse work experience into a thriving business.  Nicki Sanders Leadership Consulting helps businesses recruit and retain the best employees and helps women in mid-level management design the careers of their dreams.
© 2020 Copyright Protected. ALL RIGHTS ARE RESERVED.