Social Work Month is coming to a close. During this 2018 Social Work Month, I interviewed seven amazing women who shared their experiences, advice, and hopes about the field of social work. These women have all taken different social work paths, but each has used her empathy, education, and vision to make a difference.
Check out their brilliance in my 2018 Social Work Month Blog Series: 
I have 5 important questions for recent social work graduates and rising seniors in undergraduate and graduate social work programs: 
How many different areas of social work do you know?
Do you know the difference between a LCSW, LMSW, and a ACSW?
Have you secured your first job in the social work field?
Are you uncertain about your next step after graduation?
Do you want to learn from the experiences and careers of experienced social workers?
Now, it's your turn. What questions do you have about becoming a successful social worker?
Calling Emerging Social Work Professionals!
 JOIN US after graduation and final exams to get your social work career questions answered!
This coming May, Laila El-Asmar, LCSW-C, and I will host a career workshop for new social workers and social work students.  The career workshop will be held in Potomac, MD.  We will provide strategies and resources to help you launch your social work career on a strong foundation. You will also have the opportunity to network with other emerging professionals.
 STAY TUNED for workshop registration information.
Related Articles: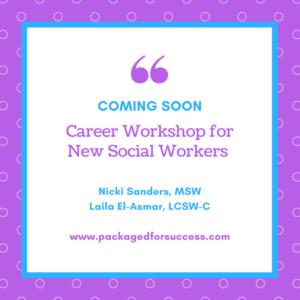 Nicki Sanders, MSW, is a travel and cupcake lover with a passion for self-discovery and career development. She has a strong background in developing and managing interns and successful internship programs. She is an accomplished manager, professor, coach, trainer, and group facilitator who has packaged her Master of Social Work degree and 20 years of diverse work experience into Packaged For Success, a full service training and professional development company.
© 2018 Copyright Protected. ALL RIGHTS ARE RESERVED.