Conversations with Nicki Sanders leadership interviews highlight the success strategies, advice, and career journeys of authentic women leaders in a variety of industries. The goal of Conversations with Nicki Sanders is to:
a) Showcase women in leadership (at home, at work, and in the community)
b) Share best practices in employee and intern recruitment and engagement
c) Offer strategies to increase productivity and performance
d) Promote a healthy work environment
e) Encourage self-care in professional women
2020 Conversation with Nicki Sanders and…
January – Lisette Engel, MPA, Community Advocate
February – Bessie Bordenave, Harriet Tubman Foundation President
March – Shante Johnson, MSW, Founder of Rising to Thrive, LLC
Erica Anderson, LMSW, Founder of Millennial Social Work Conference
Tiffany Walker, LSW, Founder of Pathways Toward Peace
April – Sandy Saperstein, PhD, Lecturer, UMD and Senior Associate, Sharp Insight, LLC
May – Kahlil M. Kuykendall, Founder and CEO of Mama Yogis Wellness
June – Jessica Moore-Solórzano, MPH, MCHES, Public Health Leader
July – Instagram Replay: Conversation with Nicki and Nikki
August – Jenai K., Creator of By Jenai K.
September – Tiara Nicole Riley, Motivational Speaker
October – Wendy Elover, Progress Partner
November – Kenice Middleton, CEO of WIN, LLC, and Co-host of Color Scheme Podcast
December – We take a one-month sabbatical!
I can't wait to introduce you to more amazing women leaders in 2021!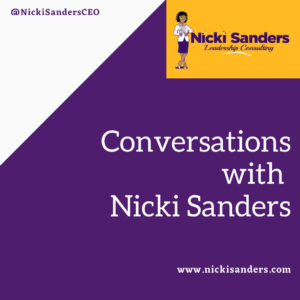 Nicki Sanders, MSW, CEO, is a travel and cupcake lover with an aptitude for authentic connection and career design. She has an extensive background in developing and managing successful programs and leading high-functioning multi-disciplinary teams. She is an accomplished professor, coach, trainer, and group facilitator who has merged her Master of Social Work degree and over 20 years of diverse work experience into a thriving business. Nicki Sanders Leadership Consulting helps businesses recruit and retain the best employees and helps women in mid-level management design the careers of their dreams.
© 2020 Copyright Protected. ALL RIGHTS ARE RESERVED.